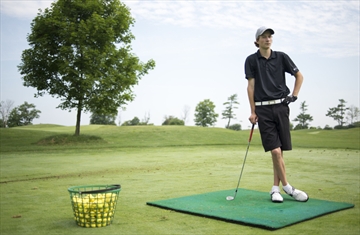 Teeing up
Marta Iwanek,Record staff
Trevor Ranton, 16, is riding a wave of confidence.
Trevor Ranton's summer season is a smashing success, no matter what transpires the rest of the way.
The Waterloo golfer is riding a wave of confidence at this week's Ontario men's amateur championship in Collingwood thanks to his surprising victory at the recent International Junior Masters tournament near Buffalo. Ranton, 16, was the final player to qualify for the 32-player championship flight at the East Aurora Country Club, but managed to breeze through the match-play portion of the event before closing the deal with a 5-and-3 win over Mexico's Raul Pereda in the championship match.
"It really boosts my confidence to know that I'm capable of winning something like that and it's nice to have people notice you as well for what you've accomplished. A lot more people know me now than they did before that tournament," said Ranton.
"It's pretty surreal because it's such a huge international tournament and I didn't really expect to win going in. I wasn't really expecting anything."
His highlight from the championship match came on the par-3, 13th hole when he crushed a six iron to within three feet from 191 yards away. The shot seemed to rattle Pereda, who bogeyed the hole and allowed Ranton to go up three with five to play.
Ranton has continued to turn heads this week at the OslerBrook Golf and Country Club in Collingwood. The hard-working player is at 7-over 149 after two rounds and has qualified for a spot at the Aug. 6-9 Canadian men's amateur championship in Victoria, B.C.
Ranton is a member of Whistle Bear's Junior Performance Team and credits his personal coach Mike Skimson for playing a huge role in his development. He also mentions the team's head coach Dave Smallwood and sports psychologist Rich Ennis as being helpful along the way.
Whistle Bear clubmates Luke Moser, Keaton Jones and Matt Chiasson have also been helpful as "people to compete against and practise with."
Truth be told, Ranton is actually a golfer by default as a health issue caused the sport to pick him, not the other way around.
The son of Doug and Sandra Ranton was born with hypertrophic cardiomyopathy (HCM), a heart condition which is perhaps best known as a cause of sudden cardiac death in young athletes. The disease is believed to have played a role in the early deaths of several notable young athletes in recent memory, including Windsor Spitfires captain Mickey Renaud in 2008 and NHL player Sergei Zholtok in 2004.
Still, Ranton was an active, athletic youngster until his parents — who are both teachers — attended a conference that focused on HCM. They learned of the risks associated with playing up-tempo sports and decided they had no choice but to make their son give up his first love.
"I was really disappointed because basketball was my favourite sport by far and I was pretty good at it . . . but you get used to it and it doesn't really affect my life too much any more," said Ranton, who only recently started to take golf seriously.
"It was only last year and the year before that I decided this is what I want to do and I want to get really good at it."
Another thing Ranton wants to do is add a bit of weight to his six-foot-two, 145-pound frame. What he doesn't want to experience is a growth spurt like the one his older brother, Jacob, had during his Grade 11 year at WCI. Jacob, a six-foot-seven basketball player who's bound for Memorial University in Newfoundland, shot up a good four inches during his third year of high school.
"As a golfer, I sure hope I don't. I might grow a little bit more but I have a feeling that I won't be like (Jacob). This is pretty much it, I hope," he said.
Ranton followed up his huge win at East Aurora by reaching the final 16 of last week's Ontario's junior boys match play championship before bowing out to Brantford's John Boncoddo, who went on to win the event. Ranton didn't play poorly but said burnout definitely played a role in his 2-and-1 loss.
"It was tough because I'd played 15 rounds in 10 days and I was just really mentally tired and made a few mistakes that cost me," he said.
Ranton will maintain a busy schedule for the remainder of the summer, including next week's Ontario junior boys championship in Windsor and the Ontario juvenile championship in Renfrew. The Canadian junior championship is also a possibility, depending on how he fares at next week's tournament.
Not surprisingly, he dreams of one day taking his game to the United States and competing at the NCAA Division 1 level.
College coaches aren't permitted to talk with Ranton until later this year, but with a prestigious title under his belt, it wouldn't be the least bit surprising for his dream to come true.