LeMay roars back to win Ontario championship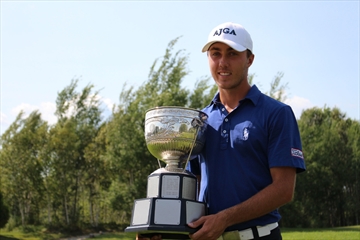 att LeMay
Photo courtesy of the Golf Association of Ontario
Waterloo's Matt LeMay captured the Ontario junior boys golf championship in Sudbury on Friday.
SUDBURY — His Twitter name says it all . . . Lemayzing.
Waterloo's Matt LeMay fired a 5-under 67 on Friday to overcome a three-shot deficit and capture the Golf Association of Ontario junior boys championship at the Timberwolf Golf Club.
LeMay finished the 72-hole tournament at 2-under 286, the only player to finish better than par. His closing 18 holes – the best round of the tournament – featured three birdies, 14 pars and an eagle on the par-5 11th hole as he finished four shots ahead of Cayuga's Charles Corner, who closed with a 74.
"It's unbelievable. I can't believe how far I've come from last year, two years ago, it's just unbelievable," said the 18-year-old LeMay. "It was a confidence thing but I just kept working on it, I just kept hitting balls and grinding it out and I managed to get my confidence back."
Waterloo's Tyler Douse closed with a 77 to finish in a tie for 14th place, 14 shots behind LeMay.
A Whistle Bear member, LeMay credited his coach Dave Smallwood for giving him a pep talk at the start of the event that stuck with him through four grueling rounds at the extremely difficult layout.
"He said to fight for the puck, to get the puck and fight for it and that's what got me going. That was in the back of my head the whole week, to get the puck and score and that's what I did," said LeMay
The soon-to-be Georgian College student won't have long to savour his victory as he'll be in Quebec on Monday in hopes of qualifying for the RBC Canadian Open that opens Thursday at the Royal Montreal Golf Club. LeMay earned his spot in the qualifier at a recent regional event at his home course.
If he doesn't qualify for the Open, he will head to Ohio for an American Junior Golf Association.
From there, he'll play the Canadian junior golf championship in Niagara Falls and back-to-back AJGA events in Michigan.
LeMay's victory marked the third straight week that Waterloo Region golfers have come up big. Whistle Bear's Trevor Ranton captured the Ontario junior boys match play championship two weeks ago in Gravenhurst and Westmount's Chris Hemmerich won the Ontario men's amateur championship last week in Georgetown.
mbryson@therecord.com ; Twitter: @BrysonRecord