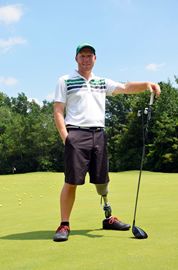 Fore!
Whitney South, Times Staff
2013 Canadian amputee golf champion Josh Williams is set to take a swing at the first-ever amputee long drive challenge.
Cambridge TimesWalking out onto the green at the Golf Performance Centre at Whistle Bear, Josh Williams couldn't look more at home.
Casually slicing his driver through the air, the reigning Canadian amputee golf champion can't seem to hold onto a club without taking a couple swings.
"It would just be wrong," the professional club fitter says with a smile.
Despite losing his left leg in a boating accident at age six, Williams has never thought of himself as disabled or disadvantaged.
"It happened to me so young I don't know who I would be without it," he said. "But I wouldn't go back and change it; sometimes things happen for a reason."
Williams pointed out that even though there are certain things that hinder him, he's just as capable as the next guy.
"I'm shorter, he's taller, I have one leg, he's got two legs – there's always something that can stand in the way for anyone."
Never one to let anything stand in his way, Williams continues to be a standout on the links, having just returned from the 2013 Canadian Amputee National Open Championships in Saskatoon, where he took home his third consecutive title.
He will be competing in several events across North America this summer.
Currently in Tennessee, Williams is participating in the first-ever Amputee Long Drive Championship.
The competition features golfers from throughout the United States and Canada testing their skills.
When he was asked by championship founder Dean Jarvis to be a part of the competition, Williams didn't  think twice.
"For me it's really important to support amputee golf, so I said I would be glad to come," he said.
Williams said he's looking forward to having a little fun, regardless of where he finishes.
"I have a very outside chance of winning," he laughed. "I'm not the longest hitter out there, but I'm not short by any means. I think 330 yards would be a great goal for me."
This year promises to be an exciting one for Williams, who will attempt to defend his U.S. Championship title, as well as participate overseas in the Japanese Disabled Golf Open in the fall.
He continues to work hard in hopes of one day playing in a professional golf tournament.
Visit www.caga.org to learn more.