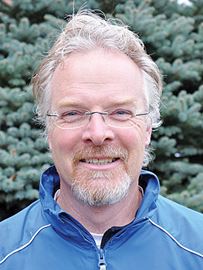 Mike Martz
Cambridge Times
CAMBRIDGE -Mike Martz has dedicated much of his coaching career to junior golfers.
Even before joining The Golf Performance Centre at Whistle Bear in 2010 to help with one of the fastest growing junior teams in Canada, Martz ran several golf camps and, for almost 15 years, has worked with a Special Olympics golf program.
Add to that his regional head-coaching gig with the U17 Team Ontario squad and the fact that he is one of only about a dozen instructors certified as a Coach of New Competitors under Golf Canada's new development program, it is no surprise that Martz was named Ontario PGA Junior Leader of the Year last week.
Winning the award also means that Martz is now in the running for the Canadian equivalent.
Part of Martz's success with junior golfers is that he has adapted to the changes in coaching philosophies.
"There is a difference between a golf coach and golf instructor," Martz said.
"It's more than just teaching the different technical skills, striking balls and hitting decent golf shots. Now, we look at physical training, psychological training, nutrition, keeping a proper competitive schedule so that competitive players are competitive at the proper time.
"It used to be that you teach kids to hit the ball and see if they do well. That's been proven not to work."
Martz added that the new philosophy includes instructors that don't tend to work in the pro shop, as most old-style golf coaches used to do. Having to work at the course left limited time for instruction.
"Coaching in the golf business is really in its infancy. I'd say that it's come forth in the last five years," he said.
"It's really difficult to do when you work in pro shops. Starting a junior program sounds good when you go before the board to say you're going to do this, then when you've already worked 80 hours a week you're just tired. You have to be solely dedicated to servicing the clientele."
Martz has used that time to spread himself around the area. Besides coaching 12 of the best under-17 golfers in the region, he has run a golf camp in Guelph that has brought out 75 to 100 kids. What he is most proud of is his work with Special Olympics.
He started the program for the physically and mentally challenged when he worked for courses owned by the City of Kitchener.
"I worked with people 15 to 60 years of age with different disabilities. They're a neat bunch to work with," he said.
Besides working with the grassroots players, Martz is also gearing up to become an elite-level instructor.
Since Golf Canada realigned its development ladder to coincide with Own the Podium program for the 2016 Olympics, Martz has started his rise.
He is currently certified as a Coach of New Competitors and has trained for the next step – Coach of Developing Competitors. The third stage is becoming a national-level coach – Martz said there is currently only three or four of them in Canada.
Martz said he's done it not for himself, but to grow the sport.
"I made myself take every educational opportunity available to get to the highest level of certification that I can give back to the players and achieve the highest level that they want to."
And Martz may be awarded at the highest level because of it.
bdoucet@cambridgetimes.ca